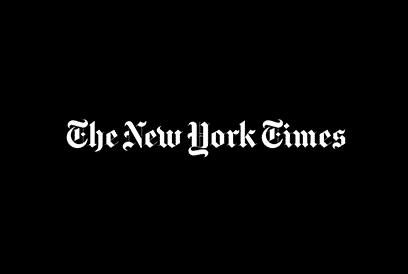 Two of Rap's Hottest Return to the Dis
"WE'RE gonna keep it in the truest essence of hip-hop: the battle," Jay-Z, the lanky Brooklyn-born rapper, said during his recent "MTV Unplugged" concert. Then, dressed in a Che Guevara T-shirt, he launched into "Takeover," his scathing lyrical assault on his Queens-based rival, Nas. "That's why your — l-a-a-a-m-e! — career's come to a end/There's only so long fake thugs can pretend," Jay-Z rapped, as the audience laughed and sang along.
In a season when real-life war in Afghanistan has made much of the violence in the entertainment industry seem like quaint posturing, hip-hop — a musical genre struggling to remain relevant — has returned to its roots with an old-fashioned, insult-laden feud. Past rap battles, not coincidentally, have been excellent for CD sales. Now, two young, up-from-the-housing-projects African-American multimillionaires — once fast friends, now bitter rivals — each acclaimed as among the most talented rappers of all time, are trading put-downs and below-the-belt innuendo.
Jay-Z, who was born Shawn Carter but often refers to himself by variations on the monikers Jigga and Jay-Hova, has reigned as the dominant figure in hip-hop for so long — four of his six albums have had their debut at No. 1 on the Billboard charts — that he doubted that any rival would have the courage to come back at him. "Ask Nas, he don't want it with Hov!" Jay-Z shouts with an almost audible sneer on "Takeover," released in September. But Nas did indeed "want it." The highly respected rapper, born Nasir Jones, came back with a one-two combination: first, an underground parody recording of Jay-Z's hit "Izzo" and then, with his latest album, "Stillmatic."
The record includes a particularly harsh rebuttal called "Ether," in which Nas compares Jay-Z's physiognomy to that of J. J. Evans, the buffoonish sitcom character played by Jimmie Walker; accuses him of plagiarism ("how much of Biggie's rhymes is gonna come out your fat lips?"); even engages in some armchair psychoanalysis. "You seem to be only concerned with dissin' women/Were you abused as a child, scared to smile, they called you ugly?"
In an interview, Nas said he titled the song "Ether" because he wanted his words to burn his rival's spirit. "I was told a long time ago, ghosts and spirits don't like the fumes from ether, and I just wanted to affect him with my weapon and get to his soul," Nas said.
Almost overnight, the hip-hop world was transfixed. Wyclef Jean, on tour in Norway, said the battle has quickly become the talk among Europe's hip-hop fans. "It's all over the place — international," he said on the phone last month from Oslo. "This Nas thing is on fire here." Hip-hop Web sites are crowded with fan postings from Canada, Jamaica and Africa, as boosters of Jay-Z or Nas parse every line like English majors, debating each rapper's use of puns and metaphors.
The dispute boiled over Dec. 11, when Angie Martinez, a D.J. on Hot 97 (WQHT) in New York played a response to Nas that Jay-Z had recorded the night before. Titled "Super Ugly," the track was more vulgar than clever, landing the lowest blows in the battle, including a description of Jay-Z's affair with a woman who is the mother of Nas's daughter. Nas acknowledged, in an interview, that Jay-Z's affair was real, not a mere taunt — but many fans found this bedroom dis a step too far. When the station polled listeners about which rapper they supported, Nas triumphed by 58 percent over Jay-Z's 42 percent.
The usually brash and sure-footed Jay-Z seemed stunned by the fans' rejection; in an interview on Hot 97, he apologized to the former girlfriend and to her family (though, pointedly, not to Nas). He explained that his mother had called him on his cellphone and told him he had crossed the line of good taste. "My moms never, ever calls my cell," Jay-Z said.
Though there are no Marquess of Queensberry standards in hip-hop battles, the one fixed rule seems to be: Never go on the radio to say that your mother ordered you to make up. "That was really un-hip-hop the way he handled it," Nas said with a laugh.
Jay-Z, through Rock-a-Fella Records, his label, declined to comment. The rap impresario Russell Simmons, who himself is mentioned by Nas on "Ether," defended Jay-Z's apology as that of a true professional. "Jay has seen the streets, and he raps about it as poetically as imaginable," Mr. Simmons said. "Fifty years from now we can listen to Jay's lyrics and know every detail of what it was like to grow up in Brooklyn."
The feud is part of a long tradition of such battles in hip-hop, and it will presumably be as good for sales today as it has been in the past. In fact, some skeptics say the Jay-Z versus Nas war is just an attempt by both artists to put money into each other's pockets. Their battle comes at a time when hip-hop's market share, though still substantial, has begun to be overshadowed by rock acts like Creed and pop singers like Britney Spears. Hip-hop's teenage audience seems finally to be tiring of the sameness of "bling-bling" songs and videos — hedonistic displays of diamond jewelry, chrome-rimmed cars and shimmying girls in bikinis.
To outsiders, the public slagging might seem childish, but to rap fans it is part of a venerable history; verbal one-upmanship is seen as part of an African-American tradition that encompasses the taunting game known as "the dozens," the trash-talking of street basketball and the often racially ugly jabs Muhammad Ali threw at Joe Frazier.
Since hip-hop's origins in the Bronx in the 1970's, going mano a mano — whether rhyming, D.J.-ing or break dancing — has been an essential aspect of the music.
"Back in the day, everyone was battling, but it wasn't so personal," said Sal Abbatiello, who owned a legendary nightclub, Disco Fever, in the South Bronx. "It was just about who's the greatest rapper. Every Tuesday night at the Fever, we'd have 30 or 40 rappers lined up to get on the microphone, taking a number like in the bakery."
Battling first hit wax in 1984, when the Brooklyn group UTFO had a smash hit called "Roxanne, Roxanne," and almost immediately a 14-year-old rapper calling herself Roxanne Shante came back with a response called "Roxanne's Revenge." Before long there were dozens of answer records to "Roxanne, Roxanne."
"That got tense, but never violently tense," said Steve Salem, who managed UTFO. "We were just upset because we felt like they were taking money out of our pockets." (The Roxanne wars and other old-school battles of KRS-One, MC Shan and LL Cool J are compiled on a new CD, "DJ Red Alert Presents Beats, Rhymes & Battles, Vol. 1.")
But the tensions latent in the verbal back-and-forth careened out of control in the mid-90's, when the two highest-profile rappers of the day, Tupac Shakur and the Notorious B.I.G., or Biggie Smalls, started trading insults, then both ended up murdered gang style. No one has been arrested in either drive-by shooting, though the police have theorized that both murders are linked to gang-related activities.
Before his death, Tupac Shakur had released a record called "Hit 'em Up" — more primal scream than battle rap — in which he profanely boasted that he'd had an affair with Biggie's wife, the singer Faith Evans. Last week, Star, a popular Hot 97 radio host, said he was distancing himself from the battle between Jay-Z and Nas because he feared that "ignorant" fans would go too far. "Damn these hip-hop savages in their teens who want to shoot and stab each other over battle records," Star said during his morning show. "Never before have I seen a generation so proud to be ignorant."
(Jay-Z himself is no stranger to violence. In October, he pleaded guilty in New York to the nightclub stabbing of a producer, Lance Rivera, for which he received three years' probation.)
But so far, both sides have stressed that theirs is strictly a staged war of words, albeit an increasingly touchy one. Recently, at the Chelsea night club Eugene, where Noel Ashman and Samantha Ronson were the hosts of a party, Jay-Z and his Roc-a-Fella Records business partner, Damon Dash, seemed visibly upset when they walked in just as Nas's "Stillmatic" began to boom from the speakers.
"Jay was really mellow about it," Mr. Ashman said, "but Damon ran to the D.J. booth and said, 'Why would you dis my boy?' He thought the D.J. was intentionally dissing Jay-Z. We smoothed it out — we played 15 Jay-Z records in a row."
Mr. Ashman, who owns Veruka, the SoHo club, said that as far as the club scene goes, Jay-Z is the hands-down favorite between the two rappers. "People are definitely feeling Jay-Z much more," he said. "Jay-Z is golden. In the clubs, Jay-Z is as hot as any hip-hop artist I've ever seen."
Jay-Z has attempted to walk a tightrope of street credibility while also achieving immense pop success; he oversees a sprawling Roc-a-Fella empire that encompasses music, film and a successful hip-hop clothing line. "I'm only worth over a hundred million," he raps, probably with not much exaggeration. Still, his recent songs have been rife with resentment at not being shown enough respect and "love" by the hip-hop community.
"That's what I don't understand — how this brother's head must have been so gassed up," Nas said last week. "He of all people should know, once you're on top for too long, the people can't wait to turn on you."
Correction:
An article last Sunday about a feud between the rap performers Jay-Z and Nas referred incorrectly at one point to Jay-Z's record label. It is Roc-A-Fella Records, not Rock-A-Fella.